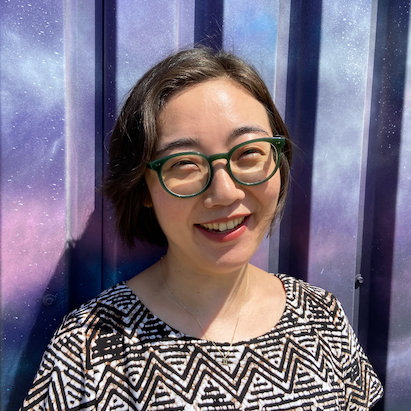 I am a writer and researcher based in the Washington, D.C. area. In Fall 2022, I joined Georgetown University as Assistant Professor of English and Provost's Distinguished Faculty Fellow. My interdisciplinary research and teaching interests include Asian/American literature and poetry, critical race and ethnic studies, performance studies, feminist theory, disability studies, and sound studies. My academic manuscript in progress, tentatively titled Politics of Composure: Race, Femininity, and Performance in the Post-Civil Rights Era, theorizes racial composure as an unpredictable strategy of keeping it together and falling apart, through the visual, literary, and sonic registers of women of color cultural production and activism. My academic and public-facing writing can be found in TDR: The Drama Review, transcript Verlag, Women's Studies Quarterly, Asian American Literary Review, Norient, 2023 Rewire Festival Programme, and elsewhere.
My research has been supported by pre- and post-doctoral fellowships from the University of Pennsylvania, American Council of Learned Societies, the University of California's Office of the President at UC Berkeley, and the Office of the Provost at Georgetown University. I earned my Ph.D. in American Culture from the University of Michigan, Ann Arbor, M.A. in Performance Studies from New York University, and B.A. from the University of California, Santa Barbara. Taking breaks between degrees, my work in the anti-violence field and environmental justice youth organizing helped me develop skills in community education and facilitation, which I continue to adapt in the university classroom.
I also write creative non-fiction and fiction. I was a part of the inaugural cohorts for creative non-fiction at Kundiman and the Asian American Writer's Workshop Open City Fellowship. I have been invited to read my work at community spaces like Bluestockings or the first Asian American Literature Festival hosted by the Smithsonian and Library of Congress. In 2021, I was named a finalist in fiction for the inaugural Periplus Mentorship Collective. In 2022, I was awarded a fellowship at the Lambda Literary Writer's Retreat in speculative fiction with Larissa Lai. I am a 2023 Tin House Summer Workshop alum in the novel with Matthew Salesses. My recent creative works are published or forthcoming on Cream City Review, Anomaly: International Journal of Literature and the Arts, and Emerge: 2022 Lambda Fellows Anthology.
I am open to general inquiries for talks, collaborations, and connections. You are welcome to reach me at peggy.lee [at] georgetown.edu.